Teas have been used to improve the overall health and appearance of skin and hair for centuries. Rich in antioxidants and anti-aging and anti-inflammatory properties, tea is one of the most powerful grocery store staples that can be used topically.
1.) Use chamomile tea to treat a sunburn 
Chamomile tea is thought to have anti-inflammatory properties and therefore, is great to treat inflamed skin that results from a sunburn. Brew the tea and wait for it to cool. Once it cools, soak tea in something like gauze (make sure it's clean) and apply to skin.
2.) Get rid of puffy eyes and dark circles
PLace cold black tea bags over your eyes to get rid of puffy eyes and dark circles. The caffeine helps to shrink blood vessels underneath the skin and eliminate darkness around the eye area.
3.) Smelly feet? Soak 'em in tea!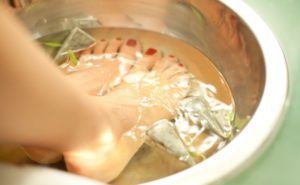 The tannic acid in tea is both antibacterial and antifungal, so it stops feet from sweating and smelling funky.
4.) Stop itchy bug bites and poison ivy
As mentioned earlier, chamomile tea has anti-inflammatory properties. To take down the sting and bumps associated with bites and poison ivy, apply a used cold chamomile tea bag directly to the area.
5.) Soothe razor burn 
If your legs are itchy and red after shaving, try pressing a cool black tea bag onto your limbs. The tannins work to provide immediate relief from razor burns.